You've received your first Premium Starter Kit or were gifted some essential oils—you lucky one!  Now you're ready to start and maybe you're  overwhelmed by how to use them.
Have no fear we've all been intimidated by how to use essential oils.  With a little practice and this simple guide, you'll be an expert in no time.
There are 3 ways to use essential oils:
Aromatically
Topically
Internally
---
Aromatic Use
Perhaps you've wandered into a spa and been delighted by the aroma wafting through the air.  Now you can learn how to get the benefits of essential oils by diffusing their aroma!
If you don't know how to use an essential oil diffuser, check the instructions specific to your diffuser for water and oil ratios. 
Try this combination in your diffuser before bedtime to promote rest and relaxation:

4 drops Lavender
3 drops Cedarwood
2 drops Frankincense
No diffuser with you? Drop a few drops of essential oil into your hands, rub them together.  Cup your hands around your mouth and nose and inhale, breathing deeply for as long as needed.
Make it a home spa evening.  Add 4-6 drops of Peace and Calming to your warm bathwater.  Enjoy!
---
Topical Use
The topical use of essential oils is one of the most popular. It's one of my faves and it's simple, once you learn a few tips.
 Essential oils are most commonly applied to these areas: Behind the ears, on tight muscles, on the belly (digestive challenges), the base of the neck and bottoms of the feet.
Before you apply topically read the directions for that essential oil.  Some oils need to be diluted with a carrier oil.  (Carrier oils are oils such as Organic Coconut, Almond or Olive oil. Don't worry, the carrier oils don't change the potency of the essential oil.)
If you have sensitive skin, test the essential oil first or I tend to apply most oils to the bottoms of my feet. (The feet have tougher skin yet your essential oils will work as well when applied to feet as they do behind your ears)
Massage an essential oil such as Panaway or Peppermint, plus carrier oil directly into that tight muscle.
Essential oils can help improve the appearance of healthy skin! (Tea Tree essential oil is great at reducing the appearance of blemishes.  You can use a cotton swab to apply the oil directly to the affected area).
For an aromatic body, treat add 1 drop lavender essential oil to your favorite natural body lotion.
---
Internal Use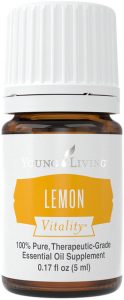 Did you know that you can get the benefits of essential oils by ingesting them? Young Living's Vitality™  line was developed to provide a clear distinction between oils for internal use and those for topical and aromatic use. All are the same pure, authentic essential oils, we've just labeled them differently so there's no confusion!
Adding a drop or two of your favorite Vitality oil to water throughout the day is a great way to stay hydrated. Oils like Lemon Vitality, Grapefruit Vitality, and Orange Vitality provide a hint of flavor in a calorie-free replacement for soda or juice. Other flavors like Peppermint Vitality and Thieves Vitality provide a spicy kick throughout your day.
Adding essential oils to recipes is a great way to get potent and unique flavors into your favorite foods.
---
Essential oil safety
Essential oils are very potent, so be cautious when you use them. Remember, a little goes a long way!
Less is more! You can always add another drop, so start slow, whether you're using your oils topically, aromatically, or internally.
Due to potency, some oils may be irritating to the skin. If irritation occurs, immediately apply V-6 Vegetable Oil Complex or pure vegetable oil to the affected area to dilute.
Always read label directions for each individual oil before use.
Do not put essential oils in the eyes, ears, nose, or other areas with sensitive skin.
Special dilution ratios are needed for children under the age of 12 (see Dilution Guide for Children)
---
From your first bottle of Lavender essential oil to a seven-oil combination in your diffuser, learning how to use essential oils is a process. I'm here to help you every step of the way! This essential oil uses guide is only the beginning—if you have more questions, check out the Young Living blog for more information and facts.
Excerpts & photo are taken from YoungLiving.com/blog
This blog does not provide medical advice It is intended for informational purposes only. It is not a substitute for professional medical advice, diagnosis or treatment. Never ignore professional medical advice in seeking treatment because of something you have read on the GroundedLiving.blog. If you think you may have a medical emergency, immediately call your doctor or dial 911.